Volunteer Spotlight: Nick Mastilovic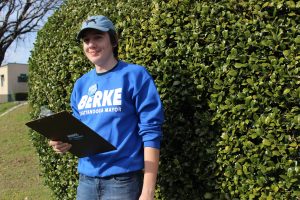 Nick Mastilovic is a 9th grader who dedicates most of his free time contributing to our community and being a social activist. Recently, Nick has helped the campaign in any way that is needed – whether it's assembling signs, making hours of calls or canvassing. The other day I was talking with Nick and asked him why he chose to get involved with my campaign and this is what Nick told me.
"You know, I was depressed after all of the losses in the November '16 election. I felt angry and sad. So, I decided (with a little bit of help from my Mom) to find a way to get involved in local politics. I found the Berke campaign and it gave me hope. It made me feel like I could make difference in my community."
I then asked him what his favorite way to volunteer is and without hesitation Nick said "I love knocking on doors. I get to hear the stories of people who are thriving in our community. It's also inspiring to talk to people who have succeeded – despite challenges. They can really change your perspective on things."
Thank you for being such an inspiration and an asset to the campaign, Nick.
Come and knock on doors with Nick and other amazing people Saturdays and Sundays from 12-3pm and 3-6pm. Call Chelsea at (423) 355-1140 or email at chelsea@andyberke.com for more information about canvassing  I'll see you soon!